OUR Team
HOME  /  WHO WE ARE  /  OUR TEAM
"Learn more about the force behind the Mouawad Diamond Impact Fund."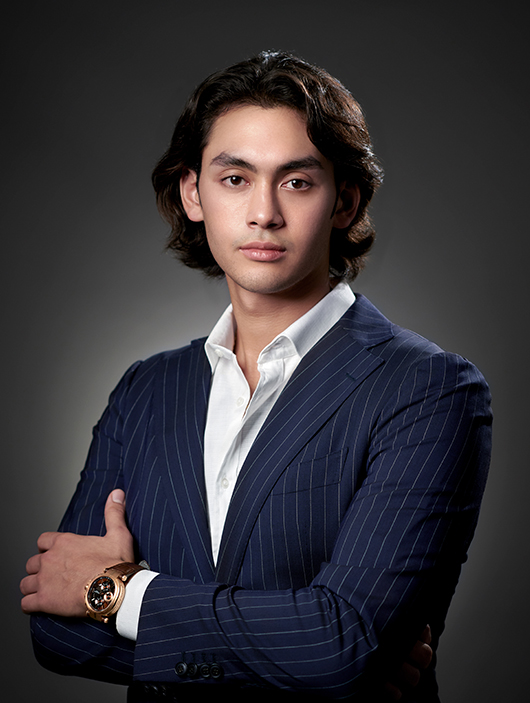 About Jimmy Mouawad 
Co-Guardian of Mouawad Diamond Impact Fund​
Jimmy Mouawad is a 5th generation Mouawad, and the son of 4th generation Mouawad Co-Guardian Fred Mouawad. Jimmy is leading the Mouawad Diamond Impact Fund, a philanthropic division of Mouawad, and is leading this initiative whose goal is to create value by improving the lives of underprivileged communities in diamond producing countries to honor the journey of billions of years it takes to form and discover a diamond.
Jimmy graduated from Hult International Business School (2019) and is currently pursuing his gemological degree at the Gemological Institute of America in New York. He attended boarding school at College du Leman (2012) in Switzerland for four years, later continuing his studies at Hult International Business School's London campus for 3 years. With Hult being a multi-campus institution he completed his final year at their San Francisco campus.
Jimmy is fluent in English, French, and Thai languages, enabling him to build long-term work relationships with individuals of diverse sociocultural backgrounds. Throughout his career, he has been part of the YNG organisation which is an umbrella organisation under YPO members. YNG's aim is to mentor young adults, allowing them to connect and provide resources to become future business leaders. Jimmy has also interned as a programmer at Taskworld, an immersive task management app. Design has always been one of his passions, and he has created and designed many jewellery pieces under his family business, Mouawad. Apart from design he has also had experience in the food industry with Synova, a highly specialised wholesale bakery catering a range of products for international food service chains, hospitals and hotels. During his time at Synova, Jimmy helped design and produce products for different clients based on their respective needs. Jimmy is also an environmentalist and was active in multiple projects throughout his studies.
BACKED BY A HERITAGE OF EXCELLENCE AND EXPERTISE​
MDIF is a philanthropic division of Mouawad founded by the 4th and 5th generation Co-Guardians.​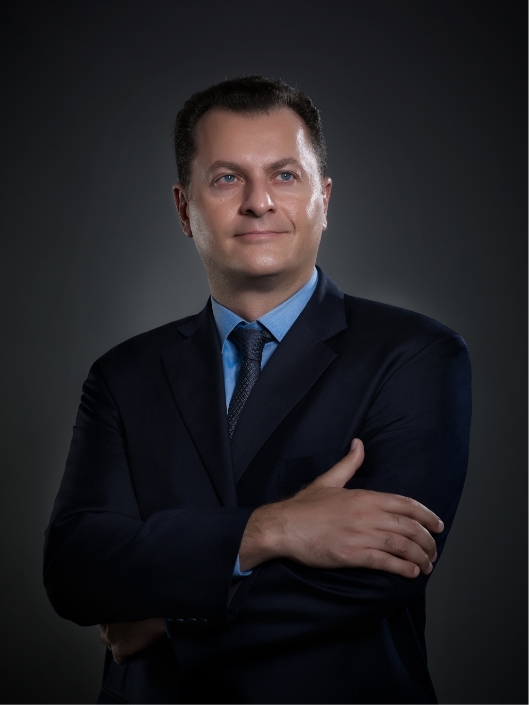 Fred Mouawad 
Fourth Generation Co-Guardian of the Diamond Division.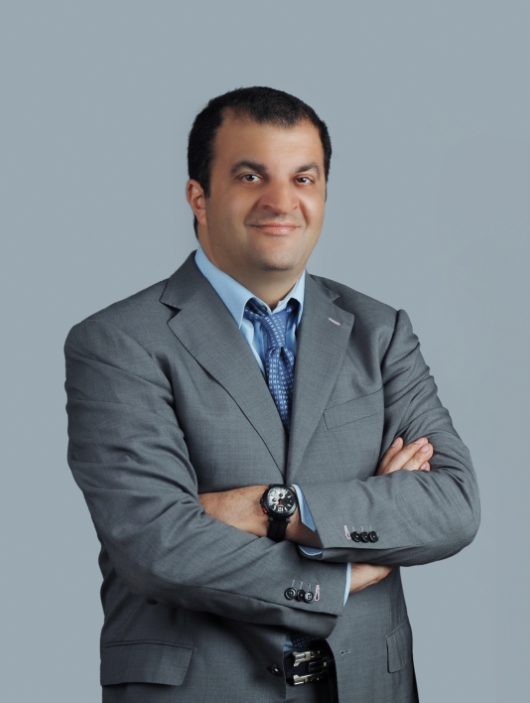 Alain Mouawad  
Fourth Generation Co-Guardian of the Watch Division.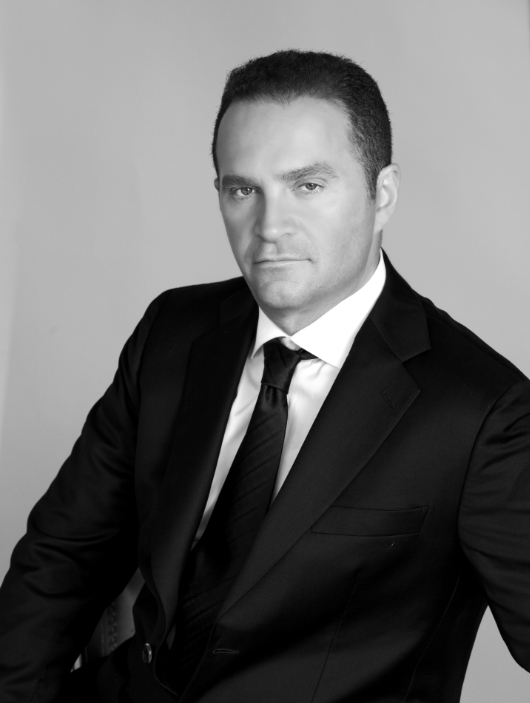 Pascal Mouawad
Fourth Generation Co-Guardian of the Retail Division.
As a fourth-generation member of the Mouawad family, Fred Mouawad inherited his father's and forefathers' entrepreneurial spirit. Raised in Geneva, Switzerland, Fred attended boarding school at College du Leman. He was fascinated by management from an early age and studied business throughout his career. He has a Business Administration degree from Pepperdine University, and is an alumnus of the Harvard Business School (MBA) and the Stanford Graduate School of Business (Executive Program). Fred is also a Graduate Gemologist from the Gemological Institute of America
(GIA).
In 1995, Fred founded a still-growing portfolio of companies under the umbrella of Synergia One, of which he is founder and chairman. Beyond the family business, his group operates across several industries including food manufacturing, IT consulting, publishing, and Software as a Service.
His personal passion for gemstones led him to co-author articles in the field of gemology, and to trade colored stones from 1990 to 2010; in 2012 he spearheaded the family business into rough diamond manufacturing. As a result, Mouawad has joined the list of elite diamantaires that are De Beers Sightholders.
Fred continues to pursue his passion for procuring and manufacturing exceptional rough diamonds to then assemble them into unique and bespoke Mouawad jewels.
Alain Mouawad, fourth-generation member of the Mouawad family, found a passion early on for horology and the luxury watch business. This passion, coupled with his marketing expertise, has driven Alain to make his mark in the timepiece industry, including his involvement in running luxury
Swiss watch brand Robergé, launching his own collection of chronometers under the Blacksand brand, and now heading the Mouawad Watches Division.
Like brothers Fred and Pascal, Alain grew up in Geneva, Switzerland, and later pursued his education in the United States at Pepperdine University. In 1991, he returned to Geneva to further his education by pursing a double major in Marketing Communications and Sociology at Webster University.
Alain began his career at the award-winning Zurich Advertising Agency Heinz Heimann DMB&B before launching his own Pro- Mond SA Communication Agency to manage the marketing and communications for the Mouawad Watches Division.
As a lifelong, avid collector of watches, Alain has a deep knowledge of horology that inspired him to develop a number of highly sophisticated watch mechanisms such as those found in the Blacksand collection. The in-house developed chrono mono pusher (Blacksand Calibre 2002) offers a blend of
tradition and modernity. The mechanism highlights the traditional column wheel, along with an unconventional approach to the global movement aesthetic with its personalized components.
In creating the Blacksand collection, Alain wished to pay tribute to the know-how and tradition of Swiss watchmaking while offering a decidedly different product. The timepieces are created for a clientele of free-spirited connoisseurs — personalities for whom luxury symbolizes time that is chosen but never dictated by market- driven, status-enhancing conventions.
Today, Alain is the Guardian of the Mouawad Watch Division and is responsible for the entire
Manufacturing Division in Geneva and at Les Breuleux in the Swiss Alps, including after-sales service
and the marketing of timepieces worldwide.
Born into a family that has owned a number of the world's most significant diamonds, Pascal was immersed in the world of fine jewelry from a young age. Raised in Geneva, Switzerland, Pascal followed his graduation from high school with a move to Los Angeles to further his education. He has a Business Administration degree from Pepperdine University, a Graduate Gemologist degree from the Gemological Institute of America, a Master of Business Administration degree from the Anderson Graduate School of Management at UCLA and is a Harvard Business School alumnus.
The U.S., and specifically Hollywood, remained at the heart of Pascal's vision for his role in the family-owned Mouawad company. Inspired by his father, who earned prestige as a choice jeweler for royalty across the world, Pascal brought an innovative twist to this family tradition by courting the glamorous "royalty" of the modern day—iconic celebrities—with Mouawad's renowned European traditions and craftsmanship. His creative vision came to fruition in 2000, when he partnered with Victoria's Secret to design and build the most luxurious and expensive lingerie ever made, the multi-million-dollar Fantasy Bra collection, covering some of the world's sexiest supermodels in Mouawad diamonds for a record- setting five straight years.
The year 2006 saw the move of the company's U.S. office from New York to Los Angeles. The relocation helped nurture Mouawad's burgeoning relationship with Hollywood's A-list. Under Pascal's guidance, Mouawad's USA division emerged as a creative haven for artists and celebrities looking to design jewelry backed by the tradition, quality and heritage of the Mouawad brand. Supermodel Heidi Klum was the first celebrity to put her individual stamp on the Mouawad name. The collection was met with incredible success, leading Heidi to be named "Fashion Influencer of the Year" by The Accessories Council for her contributions as a designer.
A new era for the Mouawad Group dawned on January 1st, 2010. This symbolic date was chosen for the handing over of the company reins from third-generation leader Robert to his fourth-generation sons: Pascal, Fred, and Alain. Each brother assumed a role as co- guardian, with Pascal naturally leveraging his vast experience as Co-Guardian of the retail division. Since then, Pascal has joined his creating ultra-exceptional and rare jewels, as well as outstanding timepiece collections, garnering several Guinness World Records along the way. All this has taken place while vigorously pursuing the vision of their father Robert by achieving a complete vertical integration as a diamond manufacturer through the DTC Sightholder designation and the establishment of the Mouawad Diamond Factory.